Quality Products on Time & on Budget
Fabrication Services
Metal Fabrication Services
Doral's custom Fabricators work with a wide variety of materials including carbon steel, stainless steel, aluminum, alloys and plastics to design and fabricate whatever your business needs. 
Our expertise and experience in design and fabrication, along with our state-of-the-art machinery, ensures that you will get the highest quality product, on time and on budget. Request a Tour of our Milwaukee, WI Fabrication Shop
Our Fabrication Services Include: 
Fabrication Job Shop - one-off projects to multiples
Aluminum & Stainless Steel Fabrication
Platforms, Catwalks, Handrails, Stairs, Ladders and Decking
Fabricate Hoppers & Chutes
Onsite Measuring & In-house Custom Designs
Blasting and Painting Capabilities
Industrial Sheet Metal
Industrial Ventilation
Custom Plastic Tunnels for Automotive Clean Rooms
Examples of our in-house equipment include:
Python® - Plasma Cutting 7 Axis Beam Processor
Plasma Table - HD 400 Amp 8' x 24' Table with Flame Cutting Attachment
4,000 Watt Laser 5' x 10'
400 Ton Press Brake
Shearing Capabilities
5" Boring Bar
Marvel Saws
Plate & Sheet Rolls
Lathes
Mills
Whitney Punch
Who do we normally work with?
Plant Engineers
Maintenance Personnel
We invest in the latest technology to save our customers time & money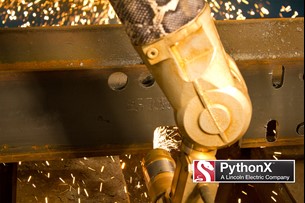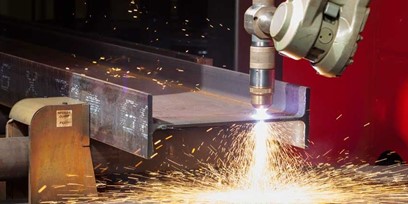 PythonX is a robotic CNC plasma cutting system that has revolutionized steel fabrication.  We are able to process parts faster for your project to help you meet and beat your deadlines. 
Examples of our Work on the Job Site: